Role of Uterine Artery Doppler in Prediction of Preeclampsia: A Prospective Analytical Study
Keywords:
Preeclampsia, Uterine artery doppler, Hypertension in pregnancy
Abstract
Introduction: Preeclampsia is pregnancy specific hypertensive disorder of pregnancy which is associated with both high maternal and perinatal morbidity and mortality. Timely prediction and management in time, are the two key factors for prevention of these morbidities and mortalities. The aim of present study was to evaluate role of uterine artery doppler in prediction of preeclampsia in second and third trimester of pregnancy in Indian setting. Materials and Methods: This was a prospective analytical study done at department of Obstetrics and Gynaecology, King George Medical university, Lucknow over a period of one year. After ethical approval (Institutional Ethics Committee, KGMU, Lucknow, Ref. Code: 92nd ECM II B- thesis P/29.) and informed consent from every patient, recruitment was done. Group I had 120 normotensive patients and Group 2 had 100 preeclampsia patients at time of enrollment. Bilateral uterine artery doppler was done for every patient and patient were further followed for maternal and perinatal outcome. Results: Total 220 patients were studied. In Group 1, 15 patients developed preeclampsia. Both groups were comparable for maternal age and parity. However, BMI was found to be significantly higher in the patients of Preeclampsia group. Uterine artery doppler, showed statistically significant difference and it was high in preeclampsia group. It had high negative predictive value. Gestation of termination was significantly lower in preeclampsia group. Fetal birth weight was significantly lower in preeclampsia group. Conclusion: Uterine artery doppler is a non-invasive test with high negative predictive value which should be utilized for prediction of preeclampsia for all pregnant patients.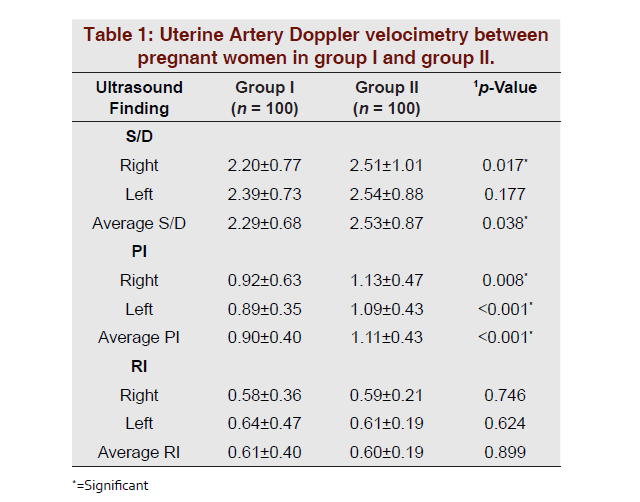 Downloads
How to Cite
Verma, M. L., Singh, . U. ., Namra, Sachan, R., Sankhwar, P., & Solanki, V. . (2022). Role of Uterine Artery Doppler in Prediction of Preeclampsia: A Prospective Analytical Study. Journal of Clinical Research and Applied Medicine, 1(2), 68–73. https://doi.org/10.5530/jcram.1.2.16
License
JCRAM and its contents are licensed under a Creative Commons Attribution-Non Commercial-No Derivs 4.0 License. Permissions beyond the scope of this license may be available with editor@jcramonline.com