Effectiveness and Perceptions of Small Group Teaching among Second Year MBBS Students.
Keywords:
Tutorials, Small group teaching, Perceptions, Didactic lecture and Medical education.
Abstract
Background: Small Group Teaching (SGT) has grown in popularity in medical education as it offers a dynamic setting for learning and it is also learnercentered. Materials and Methods: Hundred final year MBBS students with informed consent were divided randomly into two groups. Group A was delivered a didactic lecture on the topic of Infant deaths, Group B was administered casebased learning and then subjected to small group interactive discussions. Pretest and post-test were conducted using MCQ's. Perception of students based on Likert scale taken. The data analyzed in SPSS software. Results: Students who were given small group learning experience fared better than the didactic lecture group in the post-test. Small group tutorial teaching was agreed upon by the majority of the students to be more effective. Conclusion: Small group teaching was more effective as compared to didactic lectures and the perception of students was in favor of it.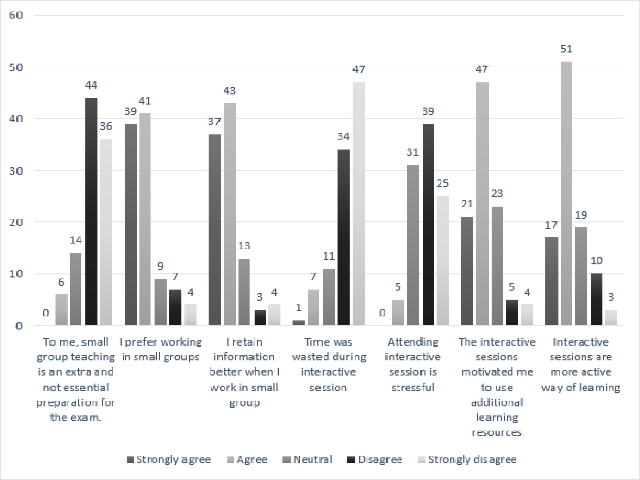 Downloads
How to Cite
R, D., B, P. ., SN, M. ., Parashuram, R. ., & PL, B. (2023). Effectiveness and Perceptions of Small Group Teaching among Second Year MBBS Students. Journal of Clinical Research and Applied Medicine, 2(4), 72–74. https://doi.org/10.5530/jcram.2.4.17
License
JCRAM and its contents are licensed under a Creative Commons Attribution-Non Commercial-No Derivs 4.0 License. Permissions beyond the scope of this license may be available with editor@jcramonline.com