Hepatitis A Virus Infection Induced Prolonged Cholestasis: A Case Report
Keywords:
Cholestatic jaundice, Hepatitis A, Children, Viral infection, LFT.
Abstract
Introduction: Hepatitis A is one of the most common causes of Viral Hepatitis among children. Children have asymptomatic or mild form of disease. Serious manifestation like cholestatic jaundice is very rare in Hepatitis A infection in young children. There have been some reports of manifestations of childhood Hepatitis A occurring in isolation. In this article a young child with Hepatitis A infection who had cholestatic jaundice is reported. The child had flu like symptoms with nausea, vomiting and loss of appetite. Methods: Routine investigations along with LFT (Liver function test) and Hepatitis viral markers were carried out which revealed hyperbilirubinemia suggestive of cholestatic jaundice with Hepatitis A positive. Conclusion: This case illustrates the importance of clinicians having a high clinical suspicion for cholestatic jaundice in patients of Hepatitis A infection.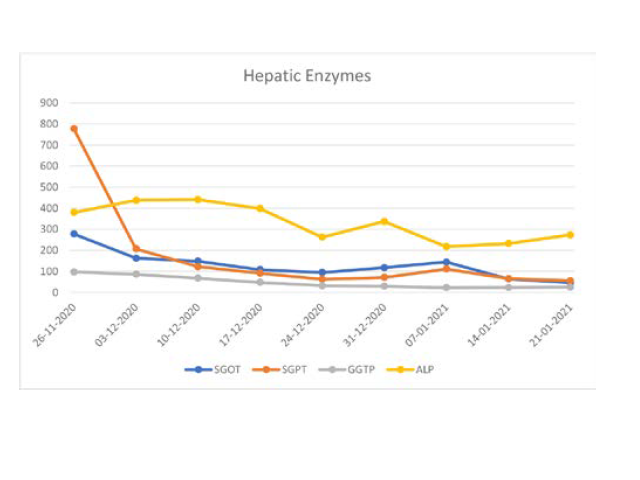 Downloads
How to Cite
Kushwaha, V. ., Agrawal, P. ., & Shukla, V. (2022). Hepatitis A Virus Infection Induced Prolonged Cholestasis: A Case Report. Journal of Clinical Research and Applied Medicine, 2(1), 15–18. https://doi.org/10.5530/jcram.2.1.5
License
JCRAM and its contents are licensed under a Creative Commons Attribution-Non Commercial-No Derivs 4.0 License. Permissions beyond the scope of this license may be available with editor@jcramonline.com